Art Nouveau is an artistic movement that emerged in Europe at the end of the 19th century and continued to develop until the beginning of the 20th century. The movement was marked by a search for new, organic forms inspired by nature and Japanese aesthetics. In the field of jewellery, this period saw the emergence of designers and jewellers who pushed back the boundaries of tradition and created truly unique works of art.
Art Nouveau had its roots in the intellectual and artistic climate of the late 19th century. With industrialisation in full swing, many artists and craftsmen felt the need to break away from impersonal mass production and create unique and original works. It was in this context that Art Nouveau began to emerge.
Several factors contributed to the genesis of Art Nouveau. Artistic movements such as Arts and Crafts in England and Pre-Raphaelitism paved the way by revaluing craftsmanship and advocating a return to nature. Japan, long considered an underdeveloped country, came back into fashion in the 19th century. It was in art galleries and at world exhibitions that the work of Japanese craftsmen was rediscovered, and prints were given pride of place.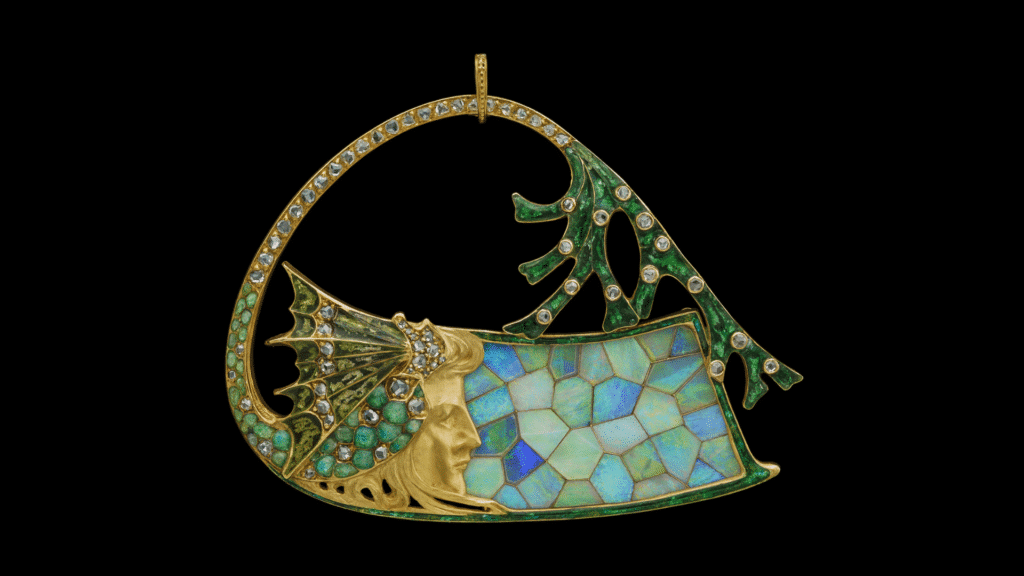 The lines, curves and irregularity of the shape are in stark contrast to the standards of European mass production. It was a veritable breath of fresh air that arrived in Europe. This fresh air from Asia immediately inspired Art Nouveau artists, who used exotic elements such as animals, insects and flowers like the lotus. Inspired by nature, organic shapes and flowing curves, this innovative style broke with the rigid designs of the past to create jewellery that was a true work of art.
Several jewellers played a key role in the emergence and development of Art Nouveau. Among them were René Lalique, who stood out for his innovative designs and use of glass, Georges Fouquet and his use of unusual gems, Henri Vever, Philippe Wolfers and Léopold Gautrait.
In total keeping with the movement, jewellery from this period often depicted delicate flowers, butterflies, dragonflies and elements from mythology, tales and legends.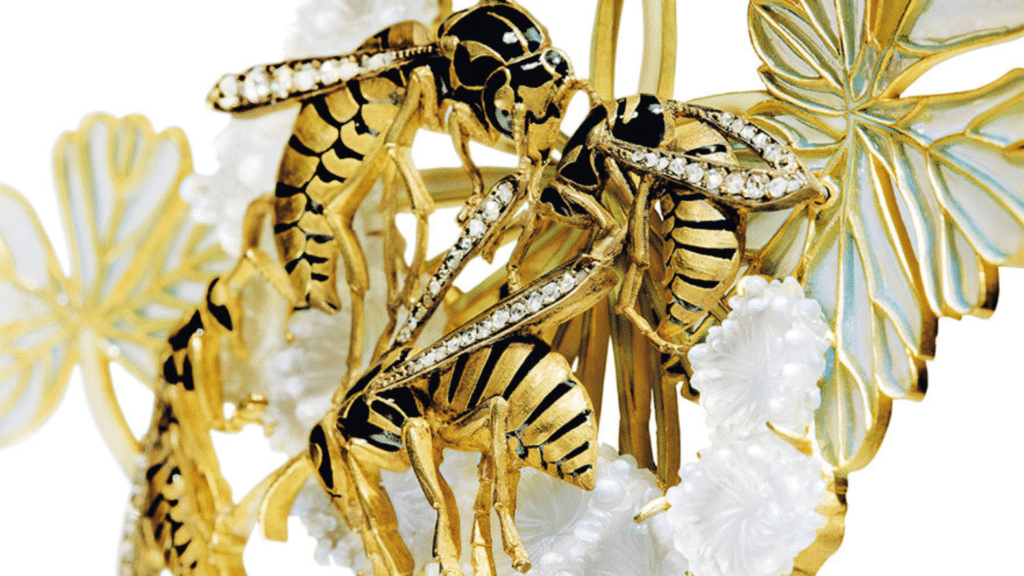 Art Nouveau jewellers pushed back the boundaries of traditional techniques to create unique and innovative jewellery. One of the most emblematic is enamelling. Using this technique, floral and organic motifs were brought to life, creating a palette of vibrant colours that enhanced the beauty of the jewellery. The use of unconventional stones and materials is also emblematic of the style. Instead of limiting themselves to diamonds and a few traditional precious stones, they incorporated semi-precious stones such as Peridot or Aquamarine, pearls, shells and even materials such as ivory and horn.
Gone are the days of jewelled ornaments, with diamonds overshadowed by opal, enamel or glass and serving only to enhance the work.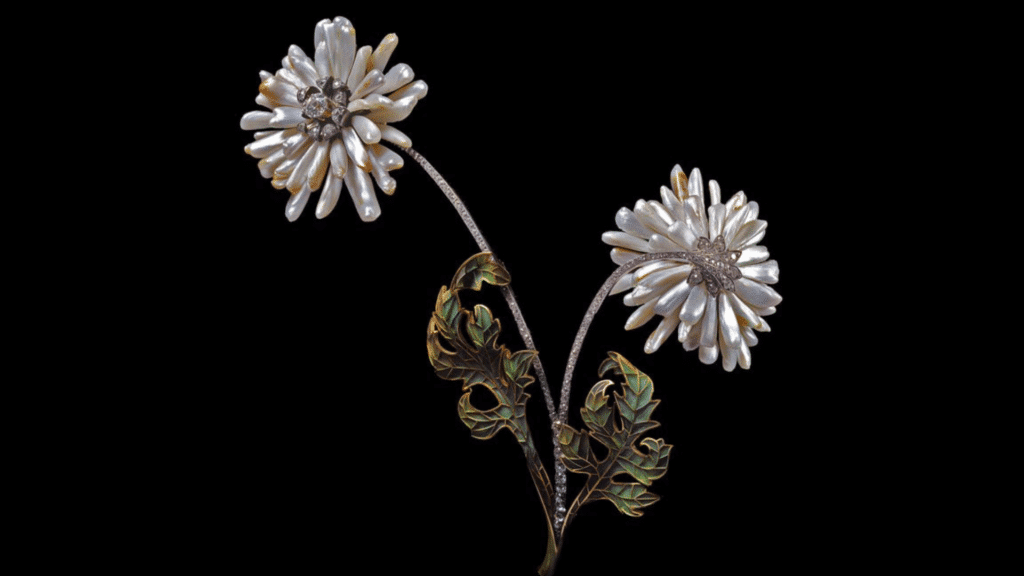 Many celebrities, including Sarah Bernhardt, La Belle Otero, Julia Bartet and Calouste Gulbenkian, were won over by the beauty of the pieces that came out of the workshops.
As the years went by, the jewellery became more and more exceptional, and true masterpieces were created, such as this magnificent tiara adorned with an enamelled peacock and set with opals by Philippe Wolfers, and recently restored by Epoque Fine Jewels, until the decline of Art Nouveau and the outbreak of the First World War.
Un Art nouveau : Métamorphoses du bijou
Exposition sur les bijoux Art nouveau à l'École des Arts Joailliers